DIPHARMA ACTIVE INSIDE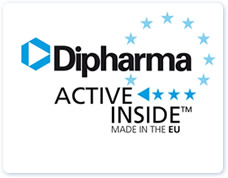 Safety and Quality are Dipharma's core values and every day skilled professionals work in our European facilities to produce high quality and safety active pharmaceutical ingredients (APIs).

For 70 years our passion and commitment has been to achieve the highest levels of quality and customer satisfaction, together with innovative solutions. For this reason Dipharma Group, with more than 200 patent applications filed, invests substantial attention and resource to ensure a continuous improvement in its production processes and to develop a strong quality culture, a guarantee for the health and the safety of patients taking Dipharma active pharmaceutical ingredients.

Dipharma manufactures about 50 products, sold in 135 countries, and our plants are regularly inspected by the health authorities of production and importing countries, which test the complete production process and end product strictly and carefully.